Machine and perimeter guards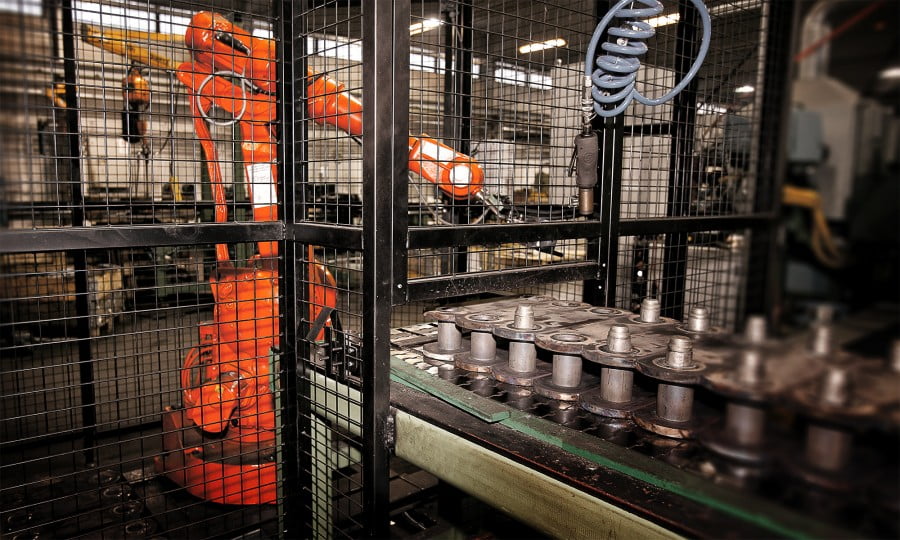 Wire mesh partition
OC-System's utility model registered wire mesh partitions comply with EU regulations and requirements for work safety. You can use wire mesh partitions to protect employees, and safeguard against machine and conveyor hazards in factories, warehouses, terminals and other facilities.
All wire mesh panels are manufactured at our factory in Finland, made to your size and colour requirements. Appropriate openings, hatches, gates, doors, and shutters are included in the delivery.
We also provide automated sliding doors and overhead shutters equipped with safety limit switches, for example. OC wire mesh panels are available in stainless steel, zinc electroplated or painted in RAL colours.
Aesthetically pleasing wire mesh partitions in custom colours enhance your corporate image and visually communicate your commitment to high quality to employees and visitors alike. We design and manufacture wire mesh panels with versatility in mind. As a result, our partitions are easy to modify and expand later on. For example, an individual wire mesh panel is easy to replace, as partitions can be disassembled and reassembled, as necessary. Installation drawings and installation instructions are included in the delivery.
Polycarbonate, acrylic, welding glass or steel
Wire mesh enclosures might not be the best solution for welding machine and machine tool cells. You will want to keep the welding machine arcs, machine tool cutting fluids and metal chippings within the cell. A selection of other materials is available for these challenging environments. We also manufacture polycarbonate, acrylic, welding glass (DIN) and steel sheet partitions and enclosures. We can also install polycarbonate or acrylic sheet on top of the wire mesh.
Stainless steel and acid-resistant steel
We also manufacture wire mesh panels from stainless steel and acid-resistant steel. If you use strong detergents to clean the floors, as is necessary in the food industry, floor mounting brackets made of stainless steel are your best option. If demands for hygiene are very high, you should select wire mesh panels made of stainless steel. We have implemented several stainless steel wire mesh partition systems for food industry in particular.
Perimeter guards
We manufacture partitions, enclosures and perimeter guards for machinery and equipment to safeguard against splashes and other potentially harmful incidents.
Machine guards
We also manufacture enclosures and machine guards to protect employees, safeguard against mechanical hazards and reduce noise to create a more enjoyable work environment.
Installation
You can install the wire mesh partitions and enclosures yourself – or let us install them for you. Our highly qualified and experienced installation crew takes care of everything. Whether you are performing annual maintenance or installing new machinery, OC-System's installation service allows you to focus fully on the task at hand: maintenance, machinery installation or automation commissioning.
Advantages to customers:
Easy solution
Aesthetically pleasing
Functional
Reusable